Former Indian skipper Virat Kohli left the test captaincy earlier this year after India lost the test series against South Africa in the rainbow nation. The sudden decision came as a shock to every cricket fan as Kohli was not only the most successful Indian captain but his name is taken amongst the most successful test captains across history. 
Rohit Sharma, who was elected as the leader in limited-overs cricket, replaced the modern-day great in Test cricket as the skipper. This decision certainly annoyed some young fans as they made their displeasure known during the second test at Bengaluru against Sri Lanka which happens to be a pink-ball affair.
Two young cricket fans requested Virat Kohli to be reinstated as India's captain from the stands on Day two of the ongoing pink-ball Test match between India and Sri Lanka at the M Chinnaswamy Stadium in Bengaluru.
The kids who are die-hard fans of the batting megastar were seen holding a placard that read "ROHIT IS #NOT MY CAPTAIN RE-INSTATE KOHLI #GOAT." The same visuals went viral in no time and a lot of fans reacted to them.
The image was shared by their father on Twitter and it went viral in no time. However, there were many who criticized the person for posting this on social media.
Guys relax , that was for tests only.. make pant or kl as captain but not a player who gets injured just before sena overseas series … rohit is no doubt goat in white ball cricket and hoping he wins us world cup both this year and in 23

— Karthik K B Rao (@raokarthikkb) March 14, 2022
Nonetheless, the father of the young child also gave an explanation by asking the Twitterati to calm down and said the request was only made to appoint Kohli as the Test captain. He then suggested KL Rahul and Rishabh Pant as better Test captaincy candidates than Sharma as the latter gets injured before important overseas series.
Rohit Sharma is yet to lose a game since becoming full-time captain of India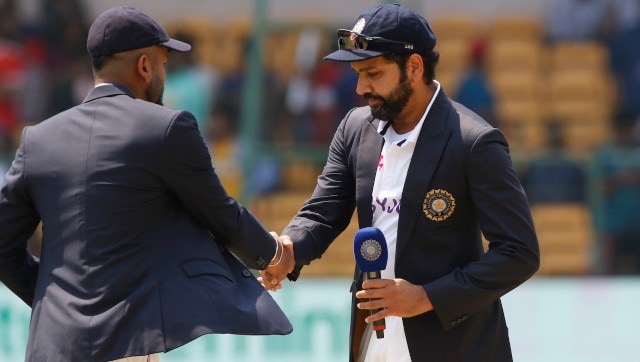 At the same time, he also added that Rohit is an outstanding white-ball player and he is sure that the 'Hitman' will play a key role in India winning the 2022 T20 World Cup and the 2023 ODI World Cup.
The person then made amends by posting a picture of a Virat Kohli and Rohit Sharma fan seated together in the stands.
Peace ✌ pic.twitter.com/FCIJZEFlmy

— Karthik K B Rao (@raokarthikkb) March 14, 2022
Rohit has had an excellent start to his full-time role as skipper in all formats. India is yet to lose a game in international cricket ever since Rohit took over the leadership from Kohli. Indian fans have their hopes high of finally winning an ICC trophy under Rohit's leadership.
Highlights:
• Young boys with placard insisting to reinstate Virat Kohli as the captain turns heads.
• The father of the young boys hails Rohit as a white-ball leader but questions his fitness for test cricket.
ALSO READ: IND VS SL 2ND TEST DAY 2 REVIEW: INDIA ON THE CUSP OF SERIES WIN AFTER SETTING SRI LANKA A 446 RUN TARGET