Venkatesh Iyer, Kolkata Knight Riders new recruit, has taken World cricket by storm with his fearless batting style. The young left handed batsman from Madhya Pradesh is only two innings old in IPL but has left his mark on everyone.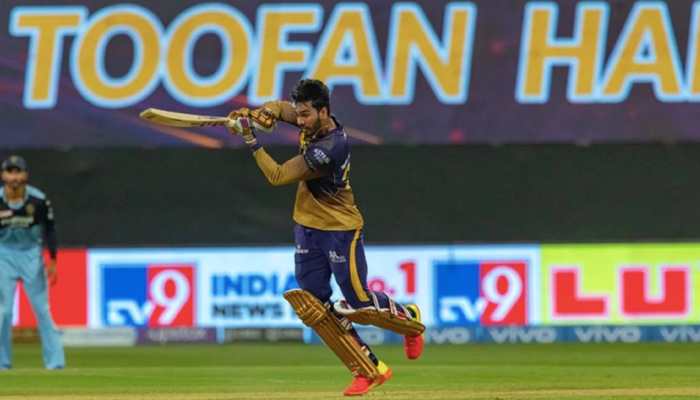 Venkatesh Iyer did not get a chance to represent KKR in the first leg which took place in India. However, ever since he has been a part of the team in the second leg, KKR is looking like a completely different unit as compared to the first half.
In his debut match, Iyer showed a glimpse of his aggressive batting style as he scored 41 unbeaten runs in just 27 balls. However, he bettered his previous performance as he scored a match winning fifty against the defending champions Mumbai Indians who have a world class bowling lineup. Iyer scored his maiden fifty in just 25 balls which ensured KKR a victory.
Venkatesh Iyer idolizes Sourav Ganguly:
Venkatesh Iyer's left handed elegance and aggressive batting style reminded everyone of Sourav Ganguly. Coincidentally after the match, Iyer revealed that he is a huge fan of Ganguly and used to copy his style. He also revealed that he used to bat right handed. But after seeing Ganguly he changed his style in order to copy him.
Venkatesh Iyer also revealed that playing for KKR was always his dream because of Sourav Ganguly. Ganguly was a part of KKR for the initial three seasons. He also captained the franchise in the inaugural year of IPL.
"Honestly, KKR was the first franchise I wanted to get in because Sourav Ganguly was the captain initially so I wanted to get into KKR first. Got picked by the franchise so it was a dreamy moment for me. Everyone was very welcoming , I got a lot of gifts. I am a huge fan of Dada, he has millions of fans around the globe and I am one of them. He has played a huge role in my batting," Iyer told teammate Rahul Tripathi in a video posted on iplt20.com.
"I used to bat right-handed when I was very young but I wanted to exactly replicate Dada, how he hit sixes and the way he batted. He has played a very big role unknowingly in my life. I was really waiting for my opportunity and I knew I was going to get my chance," he added.
With a dominating win over Mumbai Indians, KKR have entered into the top four in the points table. KKR is looking to replicate their performance of the 2014 season where they came back from behind and won the tournament.
Highlights:
• Iyer shines in his first two IPL innings
• Sourav Ganguly played a huge role in Iyer's batting style
• Iyer always dreamt of playing for KKR and reveals the franchise was welcoming