In a piece of tragic news for the cricketing fraternity, former Umpire Rudi Koertzen left for his heavenly abode after an accident on Tuesday. Koertzen was 73 before the mishap took place.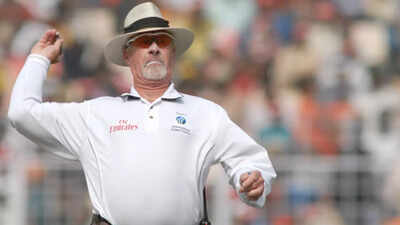 He was on his way home from Cape Town after a golf weekend. "He went on a golf tournament with some of his friends, and they were expected to come back on Monday, but it seems they decided to play another round of golf," his son Rudi Koertzen Jr. told Algoa FM News.
Rudi Koertzen officiated in more than 200 ODIs and 100 Tests
Koertzen, who took up umpiring in the year 1981 and stood in his first international match back in 1992 between India and South Africa at Port Elizabeth, went on to officiate in 331 international matches, a record that stood tall until he retired in the year 2010.
The last official match in which Koertzen served was during IPL 2011 between Royal Challengers Bangalore and Chennai Super Kings at the Chinnaswamy. The Despatch Cricket Club, which Koertzen was a respected member of and a club he helped till the very end, paid a heartwarming tribute to the legend.
"A legend in his own right passed away this morning and will definitely leave a great void in the cricket world. We want to express our heartfelt sympathy and empathy to Uncle Rudi Koertzen's family and loved ones," it said, as reported by ESPNCricinfo.
Rudi Koertzen became just the second umpire in history to officiate more than 150 ODIs after the legendary David Shepherd. In 1997, he was appointed as a full-time International Cricket Council (ICC) umpire. In 2002, he became a member of the elite panel and eventually became the second umpire in history, after Steve Bucknor, to officiate in more than 200 ODIs and 100 Tests.
In the 2003 and 2007 World Cup finals, he was the third-umpire. In 2010, Koertzen retired from international umpiring after the Test match between Australia and Pakistan.
The South African players have decided to wear black armbands during their match against England Lions on Tuesday in honour of Koertzen.
Highlights:
• Former umpire Rudi Koertzen dies in a car crash.
• Rudi was a member of the elite umpire panel in the ICC.
Indian squad for Asia Cup 2022 announced: KL Rahul returns as Bumrah and Harshal miss out due to injury