- Advertisement -
The U-19 World Cup, which elevates young talents into the bigger picture, has managed to avoid a delay, despite being disrupted by the Covid pandemic which has caused an anomaly over the last two years. However, the main concern for the boys participating is the lack of preparation due to the disruption caused by the pandemic.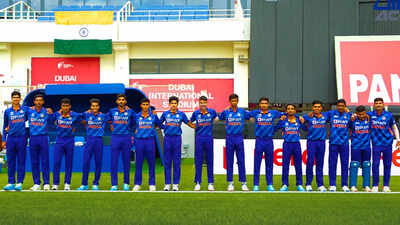 - Advertisement -
The Indian U-19 team which is the most successful team of the tournament will start their campaign on Saturday against South Africa. Unlike in the past, this team does not have any well-known name. It's a departure from the preceding teams which usually had a few who had already played either first-class or List A cricket for their state sides. There were players who went into the tournament with a reputation like a Virat Kohli, a Prithvi Shaw, or a Rishabh Pant.
In their defense, there hasn't been much competitive cricket being played over the last two years. The Ranji Trophy, which is India's prestigious domestic tournament, was called off for the first time in its history. The promotion of Rahul Dravid and his trusted lieutenant Paras Mhambrey just when U-19 cricket in India resumed in October didn't help either.
- Advertisement -
However, India's young brigade was under the mentorship of veteran Indian batter VVS Laxman who took over from Rahul Dravid as the head of NCA, and Indian captain Rohit Sharma who was recovering from an injury.
"At NCA last month, Laxman sir and Rohit Sharma shared their experience of how they groomed themselves from this level," Indian skipper Yash Dhull said of the mentorship they received.
- Advertisement -
U-19 Asia cup triumph a confidence booster: coach Hrishikesh Kanitkar
India U-19 coach Hrishikesh Kanitkar has been part of the NCA's coaching set-up for a while and he acknowledged the challenge of getting just 45 days with these boys.
 "You have to set realistic targets. It depends on how you look at it. 45 days could be enough or too little. You have to get your head around it and focus on what could be done. That's when usually you get solutions," Kanitkar said from Guyana on Thursday.
In such a scenario, the recent Asia Cup triumph in Dubai was a confidence booster for the team. Lack of practice and mentorship aside, the boys are now forced into staying in a bubble. Again, Kanitkar points out there's no other option other than being practical about it.
"This is the norm now. It is better to get used to it. The boys will learn from this before they graduate," he reckoned.
Highlights:
• U-19 World Cup commences today as India set to chase their fifth title.
• The under 19 players are going into the tournament with a lack of practice due to covid disturbance over the last two years.
ALSO READ: IND VS SA 3RD TEST DAY 3 REVIEW: INDIA BARRED FROM SCRIPTING HISTORY AS SOUTH AFRICA SECURES 2-1 SERIES WIN
- Advertisement -