- Advertisement -
Trevor Bayliss, the head coach of Sunrisers Hyderabad opened up on the reason behind Warner's absence from the team after SRH's thumping victory over Rajasthan Royals at the Dubai International Stadium. 
Warner dropped in order to give youngsters a chance: Trevor Bayliss
- Advertisement -
Sunrisers Hyderabad were finally able to register a victory after five consecutive losses in IPL 2021. Their last victory came on 21st April against Punjab Kings in Chennai.
- Advertisement -
SRH's debutant and explosive English opener Jason Roy starred in his first game of IPL 2021 as he scored a match winning 60 of 42 balls to take SRH home. Jason Roy was playing his first IPL game since 2018 when he represented Delhi Daredevils (now Delhi Capitals).
The English opener was included in place of former SRH captain David Warner who was having a torrid time in IPL. In the first two games of the second leg, Warner managed to score only 2 runs and was ultimately dropped from the third game.
- Advertisement -
SRH coach Trevor Bayliss revealed that his team's qualification chances are bleak. Hence, the management wants to give youngsters a chance to witness the game first hand. Some of the youngsters in the SRH camp had never experienced a live game of the IPL. Hence, Warner was rested so that the youngsters could witness the game.
"We can't make the finals, so we made a decision that we want the youngsters to experience not just the matches, but time at the ground and around the set-up," Bayliss said at the post match press conference
"We have a number of young players who haven't even been to the ground, even as reserves, so we wanted to give them an opportunity to come and experience a game. And that might continue for a few more games, we've got to sit down in a day or two and pick a team and a squad of 18."
David Warner unlikely to play in the rest of the IPL 2021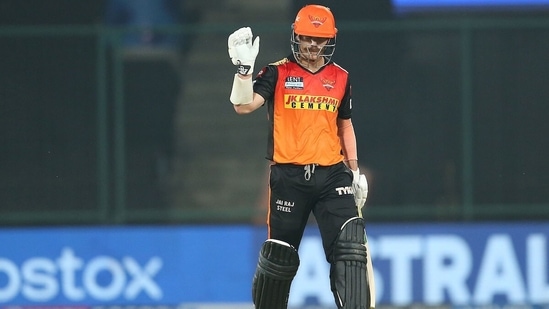 Trevor Bayliss was asked whether we have seen the last of David Warner in IPL for Sunrisers Hyderabad. "Look, that certainly hasn't been discussed," he responded.
"This is the last year before the major final (mega auction), those decisions will be made later. He (Warner) has been a great contributor to Sunrisers for a number of years and he's very well-respected. And with the amount of runs he has scored, I'm sure he has got a lot more runs in him in the IPL," Bayliss added.
Trevor Bayliss also added that Warner was supporting the boys from his hotel room
"Dave obviously was watching the game at the hotel and giving his support to the boys. Just like everyone else. We're all in this together," said the coach.
Warner made headlines during the game when he responded to a comment on Instagram that he is unlikely to get a chance to represent SRH in this season.
Under the comments section of a Sunrisers' post on Instagram, a fan wrote, "Is WARNER in the stadium… We didn't spot him?" Replying to him, Warner wrote, "Unfortunately won't be again but keep supporting please," he wrote.
Highlights:
• Trevor Bayliss reveals that Warner was dropped in order to give a chance to youngsters
• Warner was supporting SRH from his hotel
ALSO READ: BRAD HOGG BELIEVES IPL 2021 WILL BE DHONI'S LAST ASSIGNMENT AS CSK CAPTAIN
- Advertisement -