Drama galore during the season opener of Tamil Nadu Premier League (TNPL) 2022. The season opener was a nail-bitter match as their encounters fate was decided in a super over. However, the super over wasn't the only drama that occurred during the game as the fans witness hostility between Baba Aparajith and  N Jagadeesan.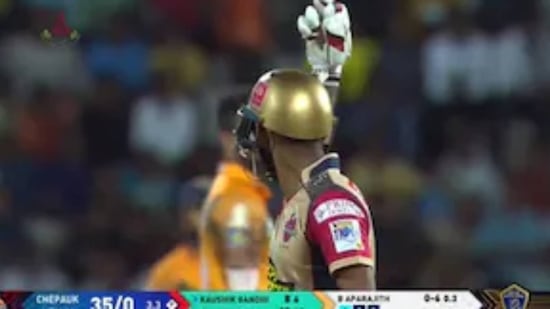 In the fourth over of the Chepauk Super Gillies' chase against Nellai Royal Kings, Jagadeesan was caught backing up by Baba Aparajith, who went on to 'Mankad' him. As a frustrated Jagadeesan walked back to the dugout, he turned back in the direction of the bowlers and raised his middle finger. But Jagadeesan wasn't done. After he took off his gloves, he made the obscene gesture again.
Watch N Jagadeesan's obscene behaviour in the opening match of TNPL 
Got it 😂 pic.twitter.com/80f90xltm6

— Prudvk kumar (@Im_PrudvK) June 23, 2022
Custodians of cricket laws, the Marylebone Cricket Club, recently re-classified the controversial runout, from law 41's 'unfair play' and incorporated it within law 38 pertaining to legitimate runouts.
Jagadeesan later took to Twitter to apologise for his "inexcusable behaviour" during the game.
— Jagadeesan (@Jagadeesan_200) June 24, 2022
Opening the innings, Jagadeesan had scored 25 off 15 balls, giving his side a great start while chasing a score of 185 in the season opener of the TNPL 2022. Earlier, the Nellai Royal Kings had scored 184/4 on the back of Sanjay Yadav's stunning 47-ball 87 and opener Laxmesha Suryaprakash's 50-ball 62.
Ultimately, the game was tied thanks to Harish Kumar's blistering innings at the end. However, Nellai Royal Kings won the super over after they chased the 10-run target set by Chepauk Super Gillies. Sanjay Yadav, who recently played for the Mumbai Indians in the IPL, was awarded the Player of the Match in the first game of TNPL this year.
Highlights:
 N Jagadeesan loses cool after getting Mankad in the first game of TNPL.
Mankad has now been legitimised as runouts.