- Advertisement -
Team India is set to renew its rivalry with England as the two cricketing giants are set to finish off the five-match test series where Team India is leading by 2-1. The fifth and final match of the series was set to be played on 3rd September 2021 at Manchester. However, the match never happened due to a COVID-19 outbreak in the Indian camp. 

- Advertisement -
Ultimately, the series came to an abrupt end and the fifth test was postponed to July this year. Team India will battle hard to win their first Test series in England in 15 years whereas a new-looking English side would be playing for pride.
BCCI's official Twitter handle shared a sneak peek of Team India's training session ahead of the rescheduled Test. All of the Indian team's Test stars including the likes of Rohit Sharma, Virat Kohli, Jasprit Bumrah, and Cheteshwar Pujara make an appearance. Coach Rahul Dravid is also seen in the video overlooking Team India's practice.
Watch Team India sweat out in the nets 
The grind is 🔛#TeamIndia sweat it out in the nets in the lead up to the rescheduled fifth #ENGvIND Test. 💪 pic.twitter.com/IZhxSLkAwH

— BCCI (@BCCI) June 23, 2022
- Advertisement -
Both India and England are under new leadership and management. Last year, Team India was led by Virat Kohli with Head Coach Ravi Shastri. On the other hand, England was led by Joe Root with Chris Silverwood as his Head Coach.
- Advertisement -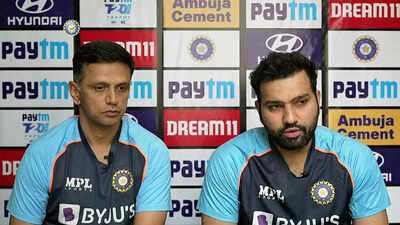 Now, India will be captained by Rohit Sharma with head coach Rahul Dravid by his side. On the other hand, Ben Stokes was appointed as the new Test skipper and the England team's coaching was handed to Brendon McCallum.
India will play a tour game against Leicestershire on June 24 where the Men in Blue would like to get into a groove before a tough English summer awaits them.
Highlights:
•.BCCI shares a sneak peek into the practice session of team India.
• India will face England in the rescheduled fifth test at Manchester.
ALSO READ: "15 YEARS IN MY FAVOURITE JERSEY" ROHIT SHARMA SHARES A HEARTWARMING MESSAGE AFTER COMPLETING A MILESTONE IN INTERNATIONAL CRICKET
- Advertisement -