- Advertisement -
Ajit Agarkar, former Indian cricketer, recently opened up on the dip in form of Suryakumar Yadav and Ishan Kishan. He revealed that their lack of form is a huge concern for the Indian team. 
- Advertisement -
It was nothing shot, he needs to spend some time on the pitch: Ajit Agarkar on SKY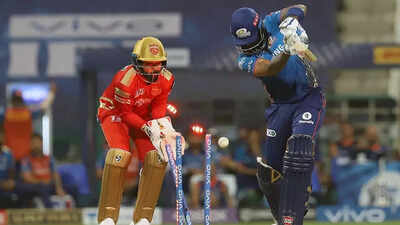 With the T20 World Cup right around the corner, the Indian team and fans have had a huge blow as Suryakumar Yadav and Ishan Kishan have lost their form. Both batters have looked completely out of touch since the start of the second leg in UAE.
- Advertisement -
Their dip in form took the cricketing fraternity by surprise as Suryakumar looked in exceptional touch during the Sri Lanka tour. He was even given a test call-up after his exceptional batting in Sri Lanka. On the other hand, Kishan also had an impressive tour of Sri Lanka where he scored a quickfire fifty in his debut game.
Suryakumar has failed to cross the single digit mark in this leg. Yesterday, he was dismissed for a golden duck as he failed to read Ravi Bishnoi's googly. Ajit Agarkar described it as a nothing shot and believes that the batter is low on confidence.
- Advertisement -
"It was nothing shot from Suryakumar Yadav (when he got out). Everyone goes through bad patches. But you still want to try and bat a few balls. Just look so short of confidence, Suryakumar Yadav at the moment. This must be a worry for them. He needs to spend some time on the pitch," Agarkar said on Star Sports.
"If you bat a certain number of balls, and if you have the ability, the rhythm might come back. Today was a great chance, because the other pitches have been a lot tougher. So, it is certainly a little bit of worry because he has looked way short of form and confidence," he added.
Ishan Kishan rightly left out in my opinion: Ajit Agarkar
On the other hand, MI dropped Ishan Kishan and brought in experienced Sourav Tiwari in his place. Kishan has failed to score a fifty in this IPL which is a complete contrast from his previous season where he hit the most number of sixes.
Agarkar feels that leaving out Ishan was the right call as Tiwari is looking in better form and MI needs to win games. He further adds that the lack of form of SKY and Kishan is a huge worry for the Indian team as they are supposed to play a crucial part in this World Cup.
"Suryakumar has been in so good in form for India, and in past few IPLs, it's just surprising how short he has looked in form and confidence. Ishan Kishan also, rightly left out in my opinion by MI. Yes, he has been part of the Indian team, but Saurabh Tiwary has looked good. And Mumbai had to win this game." 
"So they needed a couple of players in good form because Mumbai's middle-order has looked quite fragile. But it is certainly a little bit of worry for India, because they have invested in these two guys, and at this point, they do not look great," Agarkar signed off.
According to recent reports, the BCCI are also concerned about the lack of form of some players and are considering changes in the 15-man squad. Teams can make changes in their squad before 10th October according to ICC rules.
Highlights:
• Ajit Agarkar feels dip in form of Suryakumar and Ishan a big worry sign for India
• Ajit Agarkar surprised to lack of confidence in Suryakumar's batting
• Ajit Agarkar supports MI's decision of dropping Ishan Kishan
ALSO READ: MORGAN REACTS AFTER HEATED INCIDENT WITH R ASHWIN AT SHARJAH
- Advertisement -