- Advertisement -
Shreyas Iyer became the 16th Indian batsman to score a century on Test debut after he slammed a scintillating hundred against the number one ranked side New Zealand on Friday. Shreyas joined an illustrious list that includes the legendary Lala Amarnath, Gundappa Viswanath, and BCCI president Sourav Ganguly among others.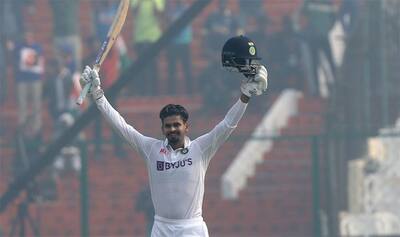 - Advertisement -
Iyer became the second batter after Viswanath to score a hundred on his Test debut at Kanpur. The Mumbaikar scored 105 off 171 balls, striking 13 fours and a couple of sixes during his brilliant effort. He was finally dismissed by Tim Southee on Day 2.
Rohit Sharma celebrates Shreyas Iyer's ton with some slick dance moves
- Advertisement -
Shreyas Iyer also became the third successive Mumbai batter to score a hundred on debut. Previously, Rohit Sharma and Prithvi Shaw notched up a century on debut against West Indies in 2013 and 2018 respectively.
Rohit took to Instagram to congratulate Iyer on achieving a historic feat by posting a video of them showing off some dance moves in a hotel room. Their fellow Mumbai teammate Shardul Thakur is also seen in the fray.
- Advertisement -
"Well done @Shreyas41 making all the right moves", Rohit captioned the video as the three Mumbai cricketers are seen dancing on "Cham Cham Nachdi Phiran" by Asha Bhosle and Channi Singh.
Watch the video here:
View this post on Instagram
Shreyas Iyer made most of the opportunity he got as he might not make it to the next test which will be played in Mumbai. Virat Kohli, who took a rest for the T20I series and the first Test is set to return in the second test. As a result, it is likely that Iyer will be the one who will sit on the bench. This won't be the first instance when someone will be dropped after giving a memorable performance. Karun Nair was dropped after scoring 303* against England in Chennai as he wasn't the first choice player for the team at that moment.
Highlights:
• Shreyas Iyer scores a century on his test debut becoming the 16th Indian batter to achieve this feat.
• Rohit shared a memorable dance video to congratulate Iyer on scoring a debut hundred.
ALSO READ: INDIA'S SOUTH AFRICA TOUR IN JEOPARDY AFTER A NEW VARIANT EMERGES IN THE AFRICAN NATION
- Advertisement -