Sanjay Bangar, former Indian batting coach, has been appointed as the head coach of the team for Royal Challengers Bangalore (RCB) for the next two seasons of IPL. He was a part of the coaching staff of RCB as a batting consultant for the season 2021.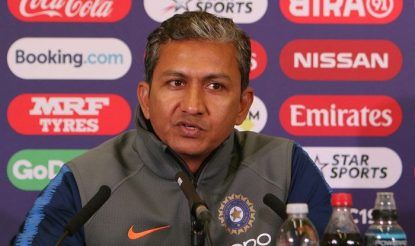 Simon Katich was the head coach when the season started earlier this year in April. However, in the second leg, Mike Hesson took over partly with Katich stepping down. Now, Mike Hesson will continue as Director of Cricket Operations at the RCB and he announced the decision of appointing Bangar as the head coach of the team.
"We have appointed Sanjay Bangar as head coach of RCB for the next two years. Sanjay is highly respected as a coach, primarily known as a batting coach but certainly has far more expertise than just that. We are certainly lucky to have Sanjay on board with us at RCB and to be able to promote him to head coach, we are delighted with that appointment," Hesson said in a video released by RCB on its Twitter handle.
Sanjay Bangar thanks RCB for giving him the head coach role
Sanjay Bangar expressed his gratitude on a video released by the RCB's social media handle. He thanked the management for showing faith in him. He informed that they have already started to strategize for the auction and even the scouting teams, along with the coaches, have come together to decide on which players they should pick for the next season.
"I would like to thank RCB management and the entire structure at RCB for reposing faith in me and giving me an opportunity in the position of a head coach. Our work has already begun in terms of our auction strategy and retentions and all of that. I would like to assure each one of the RCB fans that we are committed to building a strong franchise and we are committed to achieving the long-cherished dream of RCB to win an IPL Championship," he said.
Sanjay Bangar named Head Coach of RCB

Mike Hesson speaks about the appointment of RCB's Head Coach while Sanjay Bangar addresses the fans explaining his plans for the mega auction and the 2022 season, on @myntra presents Bold Diaries.#PlayBold #WeAreChallengers #IPL2022 pic.twitter.com/wkm7VbizTV

— Royal Challengers Bangalore (@RCBTweets) November 9, 2021
Sanjay Bangar will have to rebuild the core of RCB and find a new captain as Virat Kohli, who led the team for a long time stepped down from the role after IPL 2021. Though various reports have been emerging, RCB is expected to find its new captain in the upcoming mega auction.
Highlights:
• Sanjay Bangar appointed as new RCB head coach
• Mike Hessan to continue his role of the Director of Cricket
ALSO READ: BUBBLE WILL BURST: RAVI SHASTRI OPENS UP ON THE STRICT RULES OF BIO-SECURE ENVIRONMENTS