- Advertisement -
Before Champions Trophy 2017, R Ashwin was India's first-choice spinner in all formats. But ever since the 2017 Champions Trophy final, selectors lost faith in R Ashwin and opted to go for the wrist spin of Kuldeep and Chahal. However, an ODI call-up for Ashwin is on the cards for the upcoming ODI series against South Africa. 
- Advertisement -
Earlier in the year, the veteran spinner made his return to limited-overs in the T20 World Cup 2021 after a gap of four years and turned up with impactful performances.
Although India failed to qualify beyond the Super 12, Ashwin managed to grab the limelight. The selection panel, led by Chetan Sharma, is most likely to pick the squad for the South Africa ODIs in the next two days and Ashwin has more than a decent chance of making the cut.
- Advertisement -
With the injuries to Axar and Jadeja, their participation in the upcoming ODI series is in serious question. Hence, R Ashwin will have to compete with Yuzi Chahal and Washington Sundar for the spot for a spinner.
Rohit Sharma backs R Ashwin for white-ball cricket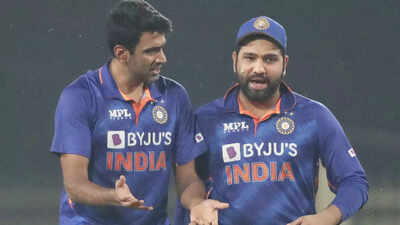 - Advertisement -
In an interview with journalist Boria Majumdar on 'Backstage with Boria', India's new white-ball captain Rohit Sharma backed R Ashwin for limited-overs cricket.
"Ashwin will give you that flexibility, you can use him in the powerplay or the middle over, so having a bowler like that – an all-rounder bowler I'd like to call – who can bowl anytime and anywhere in whatever situation, is always important," Sharma said.
"You don't want one-dimensional bowlers where you know he can only bowl outside powerplay, he cannot bowl in the death, can only bowl to right-handers, can only bowl to left-handers. The more options you have with bowlers the better, that's what I felt," he stated.
"I thought he'd be a great addition, and I think he's here to stay. He's definitely here to stay," Sharma added.
The ODI team for the series is yet to be announced. Performers in the Vijay Hazare Trophy including the likes of Ruturaj Gaikwad and Venkatesh Iyer are expected to be named in the squad. Rohit Sharma's participation is in doubt after he suffered a hamstring injury before departing to South Africa.
Highlights:
• R Ashwin is in contention for an ODI comeback.
• Rohit Sharma backed R Ashwin to play all formats in a recent interview.
ALSO READ: I DON'T TRY TO OVER-COMPLICATE THINGS: SHREYAS IYER REVEALS HIS SUCCESS MANTRA
- Advertisement -