- Advertisement -
Touring India for visiting teams has not been easy in the previous decade. One of the reasons why visiting teams couldn't perform in the Indian conditions was the lack of effectiveness of their quick bowlers. In the previous decade, only ten Overseas fast bowlers managed to secure a five-wicket Haul in Indian conditions.
Let's look at the Overseas bowlers who were able to break through the defenses of Indians in their own backyard. 
1. Jason Holder 2018: Hyderabad, 5 for 56
The no.1 allrounder in ICC test ranking finished with figures of 5 for 56 in the 2nd test match played in Hyderabad. However, India went on to win the test match by 10 wickets and the series 2-0.
- Advertisement -
2. Josh Hazelwood 2017: Bengaluru, 6 for 67
The tall fast bowler from New South Wales had a memorable 2nd test in Bengaluru as he finished with figures of 6 for 67 in India's 2nd innings. But his performance wasn't enough as India clinched the victory by 75 runs.
- Advertisement -
3. Ben Stokes 2016: Mohali 5 for 73
Stokes couldn't contribute with the bat in the 3rd test played in Mohali but had a memorable outing with the ball. He finished with figures of 5 for 73 in the first innings. India dominated the game and secured victory with 8 wickets in hand.
- Advertisement -
4. Kyle Abbot 2015: Delhi 5 for 40 
In the fourth and final test match in Delhi, Kyle Abbott gave a noteworthy performance in the first innings as he took his maiden fifer against India. His efforts were not enough to stop India from winning the test match by a gigantic margin of 337 runs.
5. Peter Siddle 2013: Mohali 5 for 71
The 3rd test match between India and Australia played in Mohali is known for the phenomenal debut of Shikhar Dhawan. However, Peter Siddle also made an impact by picking his first five wicket haul in India in the same innings.
6. James Pattinson 2013: Chennai 5 for 96
In the first test match played between India and Australia in Chennai, James Pattinson finished with figures of 5 for 96. However, his performance was overshadowed by MS Dhoni who scored his highest test score of 224 in that innings.
7. Tim Southee 2012: Bengaluru 7 for 64
Tim Southee finished with his best test figures ever in an innings of 7 for 64 in the second test match played in Bengaluru. However, his efforts went in vain as India won the match by 5 wickets.
8. Chris Martin 2010: Ahmedabad 5 for 63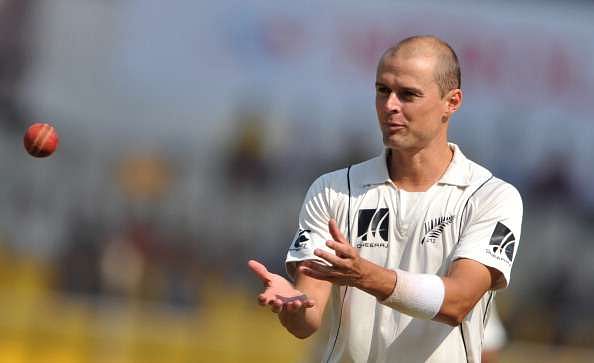 Former New Zealand pacer, Chris Martin, took a memorable five wicket Haul in the 2nd innings of the first test match played in Ahmedabad. However, the match ended in a draw.
9. Mitchell Johnson 2010: Mohali 5 for 64
 
In the renowned 1st test match played in Mohali, Mitchell Johnson finished with figures of 5 for 64 in the first innings. India eventually won the match by one wicket and later the series by a margin of 2-0.
10. Dale Steyn 2010: Nagpur 7 for 51.
During his peak, Steyn was unstoppable and took a historic five-wicket Haul in the first test. It is the only five wicket Haul by an overseas player which came in a winning cause against India in the previous decade.
ALSO READ: WHAT WOULD A THIRD STRING INDIAN XI LOOK LIKE?
- Advertisement -