- Advertisement -
KKR skipper Eoin Morgan and India's experienced campaigner R Ashwin were involved in a heated exchange during a hot afternoon match in Sharjah between DC and KKR. Former KKR skipper Dinesh Karthik also shed a light on the incident.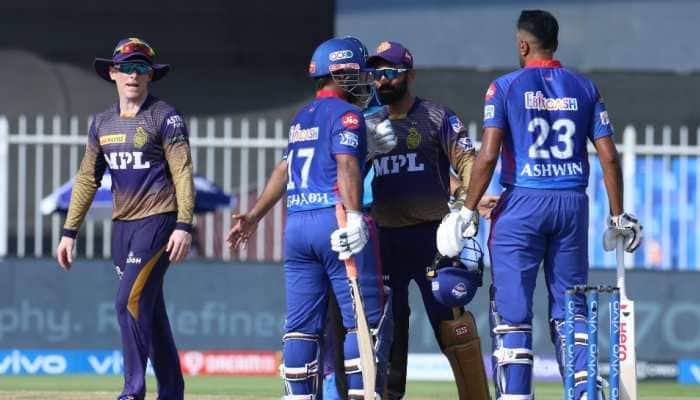 - Advertisement -
I do not think Eoin appreciates it; Karthik reveals what triggered the confrontation
KKR continued their impressive second leg in UAE as they defeated a strong Delhi team by three wickets. Sunil Narine was the star of the show as he bowled an economical spell and scored crucial runs at the end to steer KKR towards victory.
- Advertisement -
However, an incident took place during the match which challenged the spirit of the gentlemen's game. During the last over of the first innings, Ashwin was dismissed by Tim Southee. On his way back to the change room, Ashwin had a word with fast bowler Tim Southee but things sort of escalated when KKR captain Eoin Morgan stepped in and mouthed a few words at Ashwin.
Ashwin did not hold back and the two could be seen involved in a heated conversation, which required intervention from wicketkeeper Dinesh Karthik, who separated the two. Ashwin looked animated as he kept saying things, even as Morgan shook his head and walked away.
- Advertisement -
After the game, KKR's keeper Karthik revealed that the incident took place as Ashwin wanted to run on an overthrow which happened due to ball ricocheting off Rishabh Pant. Morgan was not appreciative of it and Karthik described it as a grey area.
"I know that Rahul Tripathi threw the ball and it hit Rishabh Pant and then it ricocheted off it and Ashwin started to run. I do not think Eoin appreciates it; he is someone when the ball hits the batter, he expects them not to run because of the spirit of cricket," Karthik said during the post-match virtual press conference.
"It is a very grey area, a very interesting topic. I have my own opinion on it but I can just say I am happy to play peacemaker and the thing has come to a good standstill right now."
On a hot day, things can boil over: Eoin Morgan
Ashwin was able to extract revenge from the English skipper as he dismissed him for a two ball duck. Morgan's poor form in the IPL 2021 continues.
Morgan was asked about what went down in the middle by Ian Bishop in the post match presentation.
"Both sides played the game hard. On a hot day, things can boil over. Thankfully it didn't. We all played in the right spirit," Morgan said at the post-match presentation ceremony.
"And its a tough contest against Delhi Capitals. Full credit has to go to our coach Brendon McCullum. Its his ethos, his mindset, and the boys have bought into that," he added.
With this win, KKR have placed themselves in the top four. This win was crucial for the Knight Riders as the tournament heads towards its business end.
Highlights:
• Ashwin involved in a heated exchange with Eoin Morgan
• Karthik reveals the incident took place after Ashwin tried to run on an overthrow
• Morgan says things didn't boil over and the game was played in the right spirit.
ALSO READ: INZAMAM-UL-HAQ HOSPITALIZED AFTER SUFFERING A HEART-ATTACK
- Advertisement -