Indian all-rounder Hardik Pandya is having the time of his life in 2022. First, the Gujarat-born led his team to an IPL trophy in their maiden tournament. Then, he led India to a 2-0 victory over Ireland in June. Now, he has had a memorable white ball tour against England, who are arguably the best-limited overs team in the world.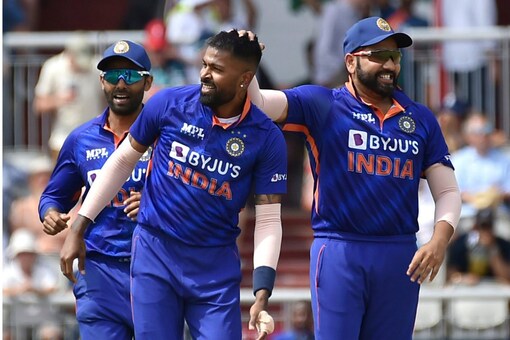 Hardik Pandya played a crucial role in India's series win in the ODI and T20s, especially the final ODI which was also a series decider. Pandya contributed with both bat and ball in the final ODI against England at Old Trafford, and he was pleased to have contributed in different departments of the game. India sealed a five-wicket win to clinch the series 2-1.
When Hardik came out to bat, India was in a spot of bother having lost four wickets in a chase of 260. At that juncture, Hardik played with positive intent and stitched a game-breaking stand of 133 with Rishabh Pant. Hardik didn't just crack a volley of shots but also juxtaposed his aggressive play with singles and twos to put in a complete performance with the bat.
"It is always very good to contribute in all the departments, I think that has given me a lot of confidence in the past, it adds more layers to my game and to my confidence," he said in the post-match presser on Sunday (July 17).
"And Rishabh… his innings was very important for us, the partnership as well and obviously the way he finished, we all know what kind of talent he has, it is just when it comes out, it is very easy to the eye, and also gives a lot of people… you know their heartbeat also goes up. But at the same time, it gives the eyeballs as well… all the kinds of shots he plays," he added.
Whenever things happen to me, the way I planned, it gives me confidence: Hardik Pandya
With Jasprit Bumrah not playing due to a back spasm, Hardik also had to step up with the ball. The all-rounder showed his ability to adjust to different conditions and picked up the vital wickets of Jason Roy and Ben Stokes in the middle overs. He then returned to break the threatening stand between Jos Buttler and Liam Livingstone by taking the scalps of both the batters.
"I knew that Jasprit was not going to play this game. Obviously, yes, when someone like him (is injured)… he was telling me, 'you may have to bowl a couple of overs in the death as well (and) I said, 'very big shoes to fill'. I had to step up, not at the death, but in making sure that in the middle overs I got the breakthroughs. Whenever things happen to me, the way I planned, it gives confidence," he noted.
On a track that offered some bounce, Hardik's strategy was to bang the ball short and use it as a wicket-taking option. The point can be capsulise by how Hardik Pandya continued to employ the short ball as bait against Liam Livingstone and eventually won the mini-battle, with the hard-hitting batter finding the fielder in the deep.
"I had to bend my back a bit. I had to change my plans, realised that this was not the wicket to go full, and go for the short ball, and use it as a wicket-taking delivery. I fancy my bouncers. In ODIs, you have to take on the short ball and that gives a chance to take wickets," said Hardik Pandya to Sky Sports Cricket.
 "Livingstone likes to take on the short ball and that gives me goosebumps, he hit me for two sixes but I told my captain, 'even if I go for four sixes here but I take a wicket it will make a difference,'" he added.
Highlights:
• Hardik Pandya's all-round show guides India to a historic series win in England.
• Hardik Pandya was glad to step up in the absence of Bumrah in the final ODI.
Watch: Man of the moment Rishabh Pant's celebratory post after his heroics in the 3rd ODI