- Advertisement -
The IPL mega auction 2022 has finally ended. This year's auction witnessed some intense bids and amazing moments. However, one thing that stood out among the rest was how Delhi Capitals (DC) owner Kiran Kumar Grandhi played spoilsport in almost every bid. The DC owner was singlehandedly responsible for increasing the pay for various players. 
- Advertisement -
Kiran Kumar Grandhi had his paddle up for almost every other player and on most occasions, he used to pull out of the race after raising the stocks, preventing the other side from getting a player at a lesser amount. The fans quickly observed this strategy and flooded social media with memes and reactions to his approach.
The DC owner seemed to continue his strategy during the bidding war with Mumbai Indians for left-arm pacer Khaleel Ahmed. Mumbai Indians were desperately looking for an Indian pacer hence they tried to poach Khaleel.
- Advertisement -
In a video shared by someone on social media, DC owner Kiran Kumar Grandhi can be seen talking to his team at the table. If the lip reading is anything to go by, he seemed to have said, "I'm gonna f*** around till 5, presumably suggesting that he will take the price of Khaleel up to Rs 5 crore before backing out.
- Advertisement -
However, his strategy backfired as Ambani-owned MI backed out at the last minute amidst confusion in the bidding and the Capitals got Khaleel for Rs 5.25cr.
Charu Sharma makes a blunder during the bid for Khaleel between DC and MI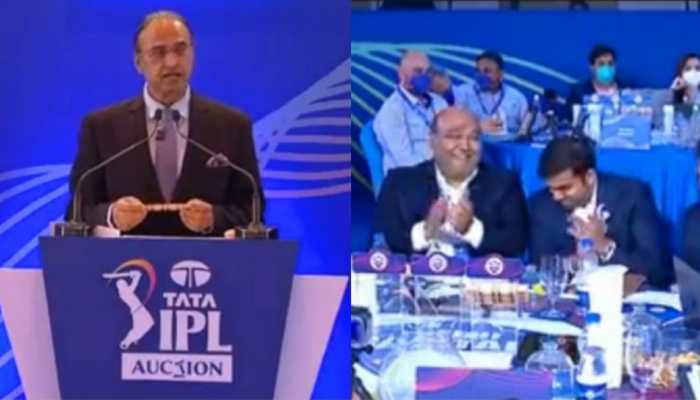 Charu Sharma did an excellent job as a stand-in auctioneer for Hugh Edmeades. However, he did make a blunder during the bidding war of DC and MI.
As the bidding crossed the Rs 5 crore mark, Mumbai Indians were the first to raise the bid to Rs 5.25 crore. Sharma then asked Delhi Capitals if they were willing to up their bid to Rs 5.50 crore. DC co-owner Kiran Kumar Grandhi was seen hesitatingly raising the paddle to up the bid while also having a discussion with the other members in the DC panel.
While the bid should have been raised to Rs 5.50 crore, Sharma mistakenly announced that DC had the highest bid for the player at the previous amount of Rs 5.25 crore. Khaleel was eventually sold to DC for the same amount, however, it was Mumbai Indians who had first bid that amount for the Indian pacer.
Watch Khaleel Ahmed's bidding War 
— Addicric (@addicric) February 14, 2022
— Addicric (@addicric) February 14, 2022
Highlights:
• DC owner Kiran Kumar adapts the strategy of bidding for almost every player and increasing their salary.
• Kiran's strategy backfires as MI pulls out of Khaleel Ahmed's deal at the last moment.
ALSO READ: WASHINGTON SUNDAR RULED OUT OF THE T20I SERIES, KULDEEP YADAV NAMED AS REPLACEMENT
- Advertisement -