Shaheen Afridi edged his name in history last year when his thunderous spell in the opening game of the T20 World Cup 2021 against India which his country defeated India for the first time in World Cups. One of the greats that got dismissed by Shaheen was Virat Kohli, who got out after a well-made half-century. But we will not be seeing a renewed rivalry between the two as Shaheen Afridi is ruled out of the tournament due to a knee injury. 
Ahead of the Asia Cup 2022, the two greats of the game met recently. Pakistan Cricket Board's Twitter handle on Thursday posted a video of Pakistan cricketers and team members meeting the players and staff members of other countries during their practice session for the Asia Cup 2022 tournament.
Watch the interaction between Shaheen Afridi and Virat Kohli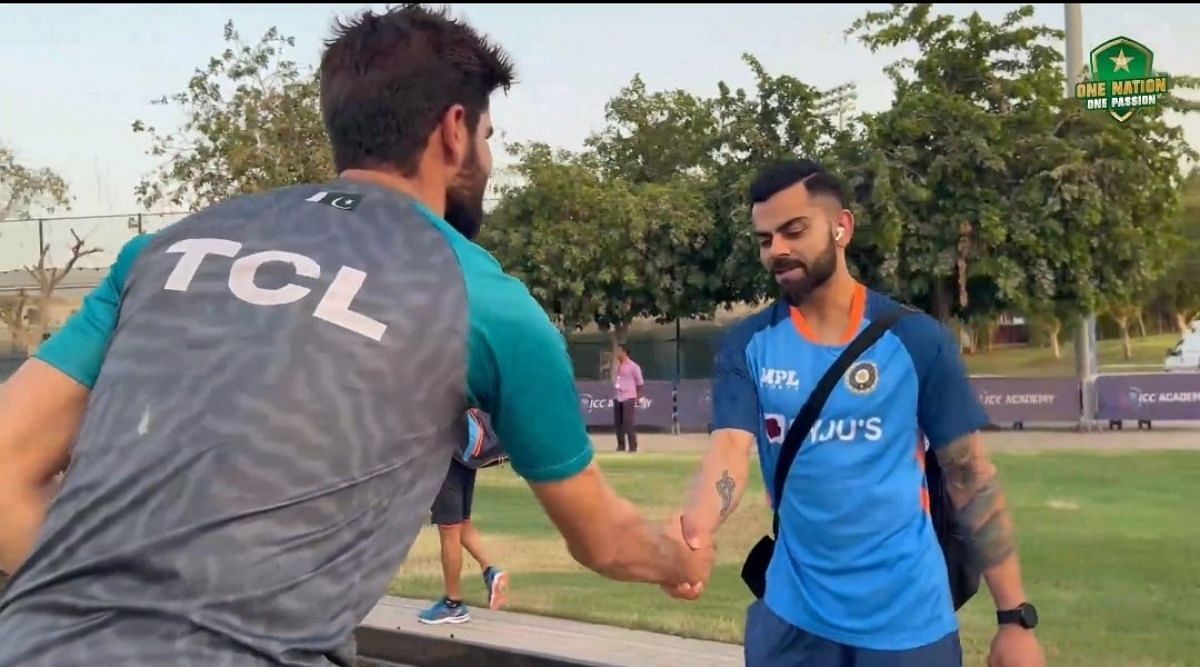 The video showed former India captain meeting Virat Kohli meeting Pakistan pacer Shaheen Afridi at the start of the video, but fans were left disappointed as the conversation was not audible. But PCB on Friday lifted the suspense over the conversation as they released a new video.
In the new video captioned, "The suspense is over! Let's listen to the conversation between @iShaheenAfridi and @imVkohli", the India batter is seen approaching Shaheen, they shake hands and Kohli asks Shaheen about his injury, while the Pakistan pacer speaks to Kohli about his form.
The suspense is over! Let's listen to the conversation between @iShaheenAfridi and @imVkohli 🔊#AsiaCup2022 pic.twitter.com/ttVYLrNtuO

— Pakistan Cricket (@TheRealPCB) August 26, 2022
Shaheen will be missing the entire Asia Cup tournament as he is still recovering from a knee injury he incurred during the Test series in Sri Lanka. He has been advised at least 6 weeks of rest and will be expected to rejoin the Pakistan side before the T20 World Cup in October.
Virat Kohli will be making a comeback in the tournament after taking a month's rest and is all gearing up for the tournament where India will be facing arch-rivals Pakistan in their opener on Sunday at the Dubai International Stadium.
Highlights:
• Virat Kohli and Shaheen Afridi interact before the opening game of the Asia Cup.
• PCB reveals their interaction on Twitter.
VVS Laxman appointed as interim head coach for Asia Cup 2022