- Advertisement -
On February 7, 1999, Anil Kumble created history as he became only the second bowler in the history of cricket to pick up a perfect 10 in a test played against Pakistan in Delhi. Now, more than two decades later, Indian-born New Zealand spinner Ajaz Patel repeated the feat becoming only the third cricketer to achieve the milestone.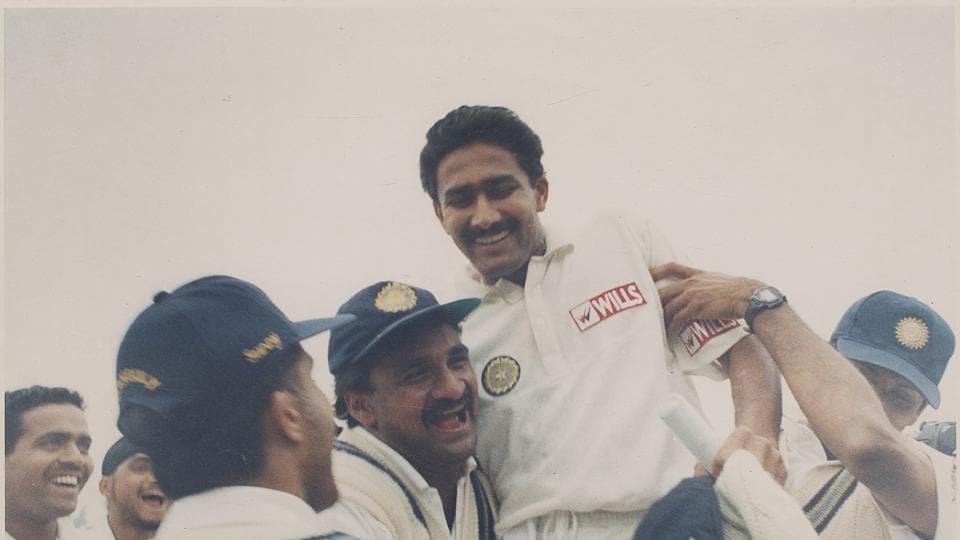 - Advertisement -
So many things need to fall in place: Anil Kumble on his perfect 10 wicket haul
"This is not something that you can plan for as a bowler. Of course, you plan for every batsman, but you never go out thinking you are going to take all ten wickets. It's just destiny, one of those things that happen on the cricket field," he said.
- Advertisement -
"It takes a lot of hard work, yes, but so many other things also need to fall in place. As well as one might bowl, all the catches need to go to hand, the fielders need to take those catches. That's what happened with Ajaz today, as it happened with me," Kumble added.
Welcome to the club #AjazPatel #Perfect10 Well bowled! A special effort to achieve it on Day1 & 2 of a test match. #INDvzNZ

— Anil Kumble (@anilkumble1074) December 4, 2021
- Advertisement -
However, despite Ajaz Patel's best efforts, New Zealand is not in a very good position.  Anil Kumble feels that this shouldn't take anything away from the memorable feat he has achieved.
"Ajaz finds himself in a different place now. His 10-for came away from home, in the first innings of the Test, but New Zealand is not too well placed. However, that doesn't take anything away from a truly memorable achievement, I am very happy for him."
On all the three 10-wicket club members being spinners, Kumble opined, "Obviously, one of the things is that you must bowl for long periods. I know all three members of the Perfect Ten club are spinners, perhaps that has something to do with it."
"A fast bowler might get four or five wickets in a clutch, but not many pacers can bowl 15 or 20-over spells like spinners. On the flip side, you can only get ten wickets in an innings if you start with an opener's wicket. India was 80 when Ajaz took the first wicket."
Everybody started expecting a 10-for after I got 10: Anil Kumble reveals how his life changed
"My life changed. Everybody started expecting a 10-for after I got 10. Maybe and hopefully for Ajaz, those kinds of expectations won't happen in New Zealand but it's wonderful that he achieved it and I am sure his life would change in terms of how the Perfect Ten-man is what he will be known for. What a great thing to do in your birthplace, in Mumbai, to get all ten," he said.
"Interestingly, three of my teammates who were on the ground when I got ten were at the Wankhede today as well – Rahul, Sri, and Joshi!,"  Kumble signed off.
Highlights:
• Anil Kumble opens up on how his life changed after picking a perfect 10
• Kumble praises Patel for achieving a rare feat as he became only the third ever bowler to pick a perfect 10 in an innings
ALSO READ: BCCI AGM Festival Match: Sourav Ganguly's cameo goes in vain after Jay Shah's bowling brilliance yields victory by 1 run
- Advertisement -